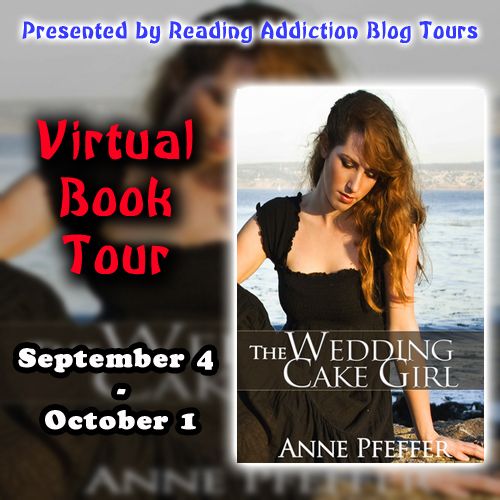 I received a copy of The Wedding Cake Girl by Anne Pfeffer to review from Reading Addiction Blog Tours. Below you'll find a synopsis, a free excerpt, my review, and a chance to win a copy too!!
Date Published: July 24, 2012
Synopsis:
Seventeen-year-old Alexandra spends so much time helping others realize their dreams
that she never has time for her own. An expert ocean diver and reluctant maker of
wedding cakes, she longs to leave roses and frosting behind to study oceanography.
Alex's mother won't have it—needy and dependent, Mom can't run the family wedding
cake business on her own.
No matter what Alex does, things only get worse for her. When she saves a man's life
while scuba diving and becomes the local hero, Mom's angry with Alex for going diving
at all. Mom discourages Alex's new friendship with Jeremy, a fun and insanely wealthy
boy who happens to have a secret. Then, Alex's best friend, Zack, a hunky island guy,
starts to take an interest in her as well. The problem is, he's dating another girl.
If she doesn't do something fast, Alex will spend her life making wedding cakes and be
buried in her "Sue's Wedding Cakery" apron with a spatula in her hand.
The Wedding Cake Girl features a colorful island setting, dangerous underwater diving
adventures, a family of billionaires, and lots and lots of buttercream. The book is Alex's
journey toward not only finding love, but learning how to step forward and take control of
her own life, a rite of passage that faces all young readers.
My Review
Ever since having my daughter a little over a year ago I have been thinking of her whenever I read books! I love to search for reads that I can share with her when she's older - sort of a small collection of books I'm starting that I think she'll enjoy! (Don't get me wrong - I do this for my son too - but I don't think the majority of romance novels I read will interest him too much!)
I am happy to say that this book will go into that collection!
A novel about growing into a woman and making your own choices, Alex reminds me of so many girls I knew as a teenager, trying to separate their own dreams from those of their parents. (I was blessed in that department, my parents encouraging independent choices!).
Even if you didn't experience that either, you can still probably remember yourself as a girl, in Alex's shoes, lusting after they boy next door who seems to never think of you as more than a friend!
I love Pfeffer's writing - being complex without being too complex, being able to make you feel like you did a decade ago (or whenever you happened to be 17!) and get lost in those emotions all over again!
I highly recommend this read for women Alex's age who might happen to be at a crossroads in their teens, or for older women such as myself who love to remember being 17 and how far we've come!
But don't just take my word for it!
Check out all these other tour stops below and get yourself a copy with the buy links! ALSO - You can WIN a copy by entering on the rafflecopter form below!
Also be sure to read about the author below!
Good luck and happy reading!
a Rafflecopter giveaway